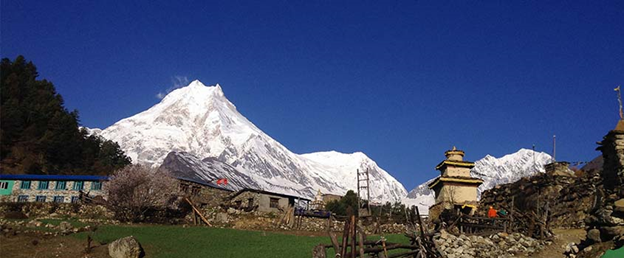 Image courtesy: https://greensocietyadventure.com/
Nepal is one of the popular destinations for trekking. Known for extreme diversity in landscape and climate, Nepal has some of the unique and thrilling trekking circuits. Even though some of the famous trekking circuits are resourceful and well-documented, most of the trekking route is still rugged and isolated from the urban cities. Considering complexities of high altitude and underdeveloped countryside you should be wary of some of the basic things before venturing on the difficult terrain of Nepal.
Best Time to Go On a Trek
Timing is the first thing to consider while trekking in Nepal. Even though Nepal is a small country, it hosts some of the extreme variations in weather. So, you should choose the right time to embark on your journey. October to November is the best time to trek in Nepal. As the rain of the monsoon will have cleared the sky and you will get excellent visibility of the mountain range. You can also choose the time from February to April, but the visibility is not as clear as in October – November. June to September is not the best time to go for the trek as during this period it will be a monsoon.
Where to Go On a Trek
After selecting the best time for your trek, you can look for a suitable trek destination. You can choose the trek circuit according to the level of difficulty and duration of the trek. There are many popular trek destination like Everest base camp trek, Annapurna circuit Trek, Rara lake Trek, Manaslu Trek, Langtang Valley Trek, Gokyo Ri Trek, Upper Mustang, Three Pass Trek, Upper Dolpo Trek, etc. If you have limited period, then you can choose short trek like Annapurna Sunrise Trek, Mardi Himal Trek, Everest View trek, Ghorepani Poon Hill trekking, Helambu trek, etc.
Work Out Before Going On a Trek
Trekking in Nepal is exciting, but it comes with the fair share of challenges and difficulties. The trail is filled with steep terrain making it must to work out beforehand. The trail can go up to a high altitude of 6000 meters. At such high altitude, trekker may suffer from Acute Mountain sickness as the body is not correctly adapted to the lower oxygen levels. The illness can be fatal if it doesn't address in proper time. Therefore, it is recommended to work out before venturing in high altitude. Beside trekkers need to be ready for acclimatization while ascending on the steep mountains.
Always Plan for Contingency Days
Many people squeeze their time to fit trek for exact days' mention in the itinerary, but they fail to consider delay and cancelled time due to bad weather. The weather in the mountain region can be unpredictable. Besides weather, you should also consider time for acclimatizing in high altitude trek. Therefore it is always recommended to have some contingency days. By including extra days into your trekking, you will always be ready for unknown.
Bring The Right Gear
Choosing the right gear for the trek should be one of your priority. A pair of good trekking boots, comfortable backpack, and clothes for the season is the basic things to look for. Besides that, if you are trekking in high altitude, you need to carry gears like trekking poles, ropes, sleeping bag, etc. Most of the trail is isolated from the city area. Therefore, it is highly recommended to carry a decent first aid kit and water purifications system like a bottle of chlorine drops. You may want to carry some antibiotics for stomach illness and upper respiratory. Some of the rural areas may not have electricity, so it is a good idea to carry an extra battery or solar charger for electronic devices.
About The Author
Aksharika is an avid traveler who loves to travel and explore new places in Nepal. She also works as a trekking guide for Green Society Adventure, and you can follow her adventures on her blog.