With the spring and summer season just around the corner, many of us will be planning holidays and, while it's hard to picture right now, one day we will wake up to warm, sunny weather ready to bask in the sun.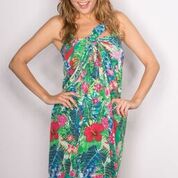 As we'll be spending time on the beach, where swimwear and beachwear play an important role, it's useful to know that shops receive around 80% of new season swimwear stock in February and March. Ever wondered why size options seem limited by July? Savvy shoppers either snap up new season swimwear now, or get a last season bargain in the winter sales. Brands such as Airy Mary are a prime example of stores which specialize in swimwear and beachwear all year round, but boast the widest selection from February to April.
In my opinion, supportive, fashionable swimwear is something that shouldn't be a panic purchase in your local supermarket hours before your flight. If you think that all swimsuits are equal, think again. We now have the choice of high tech Lycra mixed with soft polyamide in styles that can flatter all body shapes: underwired, non-wired, tummy control, bra sized for larger busts, with matching shorts and sarongs……the list is endless. Airy Mary offers swimwear to HH cup, so there really is no excuse for fuller busted women to let gravity win by wearing swimwear designed to support a B cup.
I have always liked the idea of shopping for lingerie and swimwear on the internet, provided that I'm offered free returns and free shipping on anything. They aren't items I enjoy trying on in stores. I can buy whatever I want and if it doesn't fit me, which happens from time to time, I send it back for a full refund. As well as choice, online shopping allows me to compare prices quickly, which also can't be said for shopping on the high street. In the past, I've travelled light and I've travelled to destinations where I brought way too much clothing with me. Swimwear, however, is small, lightweight and easy to pack. So if I want to mix it up and wear something different at the pool each day, there's nothing to stop me. With my daydreams of the beach and sunny weather, I'm getting back to online browsing. As long as I start the search early, this strategy is paying off.